Restoration of a 1972 VW Beetle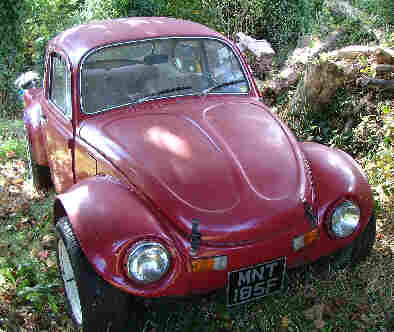 Detailed on these forthcoming pages are the progressions of the restoration of a 1972 T1 beetle. I intend to make these pages as the project progresses and take as many photos as possible to allow all to see how it's going and hopefully give others a little helping along the way with their VW beetles.
The restoration project begins: 26/11/2005
First things first. I've stripped out all of the seats and removed seatbelts, door panels etc. this was done to give easy access to the metal work of the car, it would be impossible to make a proper job or restoring the car without doing this.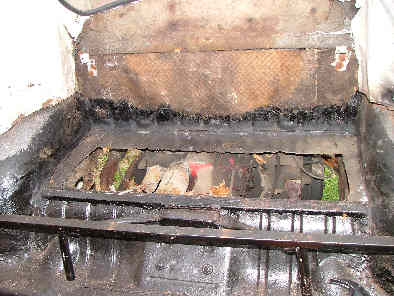 As can be seen from the above photo, the back of the car is not too bad for rust, or is it? Mmm that does not sound like metal to me, 5 minutes later, yep that's not metal that's fibreglass. Seems that's someone covered up the rot with fibreglass. Well that's all going to have to be removed.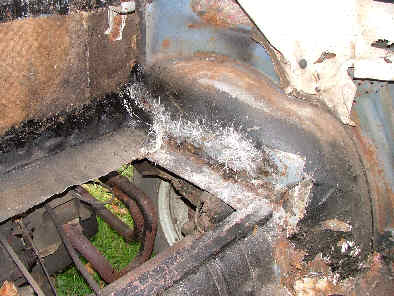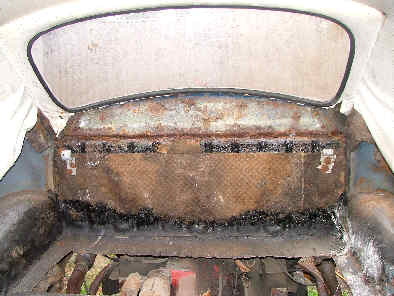 Above, this panel is known as the rear boot floor. With a bit of luck I plan to save the bottom section of this then rebuild the top section with sheet steel. I also intend on having a access hatch (were there is currently a cut out in the above photos). This is because I feel it will be helpful in the feature for repairs to the starter motor, brake pipes and shock absorbers etc.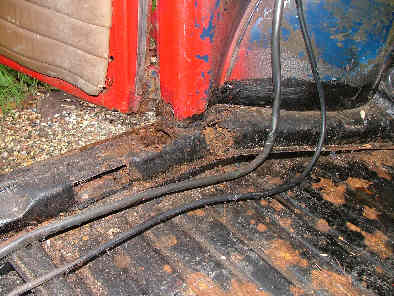 Heater channels and door posts are a common rust spot on beetles. As can be seen in the photo this Baja Beetle is no exception. The thing to ascertain now is how bad the rust is and if it's crept onto the floor pans. Time to get the angel grinder out.
Quick note about using angle grinders on cars, try and get the thinnest possible cutting discs, these are normally 1 mm, anything larger takes longer to cut panels with and is not as neat. The other thing is that you will need a stack load of spare discs, order as many as you can, you will easily use 30 to 50 discs doing a project like this if not more.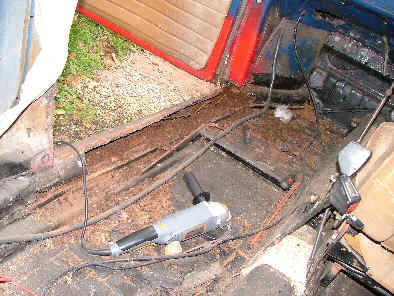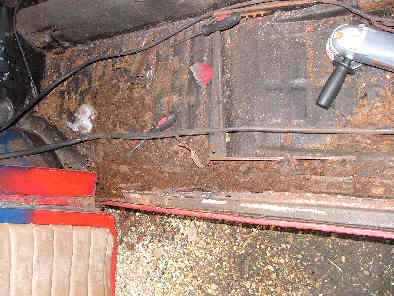 Yep, as suspected, completely full of rust, in fact the door post is floating in the air. The only that can be done here is to completely remove all traces of rust. In the ideal world we would take the beetles shell off from the chassis so that we can gain easy access. However I don't have a garage so don't want to do this, instead I'm going to try and do all work on the chassis and shell as and where it stands.
Well that's about it for this weekend, only got it back home on the Saturday in any case, so I'll sit back and think about it a little now oh and also write this page. Are yes just one more thing I need to do, buy some new tools (it's almost Christmas after all). I've managed to spend around £600 on some new tools, consisting of air compressor, sheet steel shear, air drill and a few other bits and bobs. Just got to find a supplier of sheet steel now (and some box section).
Tools from MachineMart.co.uk
Start Page Page 1 - Page 2 - Page 3 - Page 4 - Page 5 - Page 6- Page 7 - Page 8 - Page 9 - Next Page