Simple servo switch
The following information will tell you how to make a simple servo controlled switch that may be used to control a multitude of applications inside a robot. This same setup is used in "Psycho Mantis" to control the water cannons. For this simple switch you will need the following items:
One R/C servo which can be of a standard type
One micro switch
A couple of bits of wire
Soldering iron

Servo

There is nothing special about the servo to be used in this switch just a normal standard sized servo will do.

Micro switch

The current rating on the micro switch should be more than the current required by your application to prevent any damage to your gear. I would suggest a micro switch of about 15 Amp's for small motors like what are in cordless drills, this is the same current rating as the one that is in "Psycho Mantis" for the water cannons. Micro switches are available from all good electronics shops and most hobby shops and are priced at around a £1.

The circuit

The circuit to be used is very simple and requires little experience in electronics. The job of the micro switch is to cut the power between your battery and application when the servo is not making contact with the switch.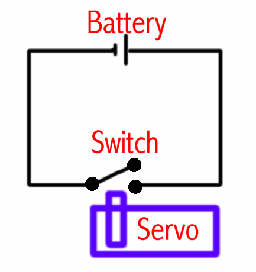 This is all there is to the circuit. Like I sed simple.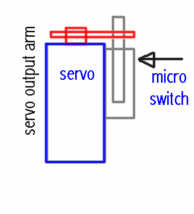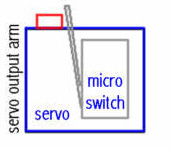 These are some diagrams of how the servo and switch are to be put together.