Forward and reverse 2 motor controller
On this page you will find out how to make a simple two motor controller using minimal components and requires little expertise to make. The components that you will need to make this motor controller are as follows:
Two standard servos
6 micro switches
Connecting wire
Soldering iron

---

Controller

The controller is an easy to build set up of switches. It uses 4 micro switches to control forward and reverse and 2 more to control the turning. It is a very basic controller that's really only suited to testing or for a quick job while you are getting the money together for PMW speed controllers. It uses 2 batteries that are centre taped this reduces the component count and there for the price. Were the two yellow dots are indicates were the second pair of micro switches are to go for the turning. These micro switches are to be permanently on until the servo output arm comes into contact with then. All the other micro switches are to permanently off until the servo come into contact with then.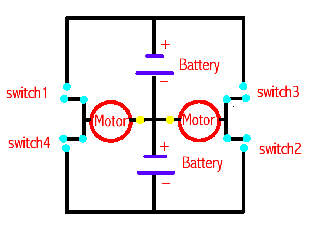 This is the circuit diagram for the controller be sure to check for short circuits before you try the circuit out for the first time. If all the micro switches are turned on at the same time it will cause a short circuit and if unattended it may cause a fire.
This was the first control system I used in "Psycho Mantis" and as I say it is very basic but it will do for testing your robot until you get proper PWM speed controllers.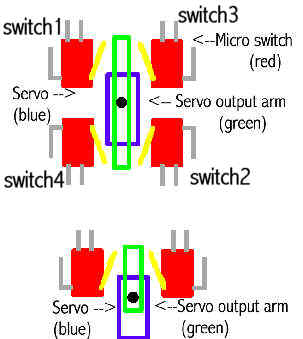 The diagram above shows the placements of the servos and micro switches