Ni Cad battery charger
Shown in the circuit below is a nice and simple Ni Cad battery charger to charge a 7.2 volt, 1.6 Amp RC battery pack. The circuit below is a constant current battery charger for use with Ni Cads ONLY. The parts for the charger are available from all good electronics shops, look at my links page for info on suppliers.
Just a quick note of warning.
I recommend that you take great care when connecting the transformer (TR1) as this will be carrying 230 volts AC When you have finished and is enough to kill so be warned.
I hold no responsibility what so ever for any accidents that may happen when this circuit is being built or used, although I have made battery chargers with this very same circuit I do not guaranty it to work in any way, shape or form.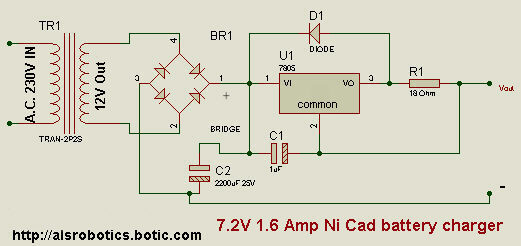 One Ni Cad battery charger circuit.
| | | |
| --- | --- | --- |
| D1 | = | IN4001 diode |
| U1 | = | 7805 voltage regulators |
| R1 | = | 18 Ohm resistor (2.5 Watt+) |
| C1 | = | 1uF capacitor |
| C2 | = | 2200uF 25V capacitor |
| BR1 | = | Bridge rectifiers |
| TR1 | = | 12V transformer |
make sure that the transformer you buy has more then big enough of a V.A. ratting so it can handle the current, as a rule of thumb take your expected current consumption for the charger and then double it.
This circuit should charge a 7.2V, 1.6 Amp battery in about 5 hours and after that the battery has to be disconnected from the charger to insure you don't over charge or cause a fire etc.
The resistor R1 can be changed and by doing this you change the charge current, you should only do this if you know the charge current of the battery and if you know what you are doing. The resistor should be over 2.5 Watt because it will get very hot and smaller resistors can not handle it.
This circuit can also be used in other countries apart from the UK, to do this just change the transformer (TR1) to the appropriate type (i.e. get a transformer with the right Input voltage for your country)