Capacitors and motors
It 's an important job to suppress your motors as they can generate high amounts of interference with your electronic gear be it radio control or micro processor controlled. All you will need to do this is 3 capacitors and a soldering iron.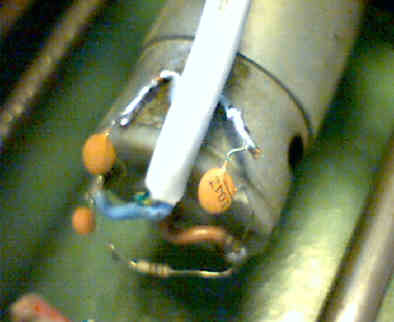 As can hopefully be seen from the photo the capacitors are to be connected to both the motor terminals then to the motors case and one across the motors terminals. You will probably also have noticed that I have also put a resistor in series with the capacitor across that motor, I have done this to try and reduce interference more, although I don't feel it has a too great effect.
You only need to put small capacitors onto your motors, something like 0.1 uF will do fine. Any bigger size capacitors will not do much for you on suppressing your motors. To help reduce interference still further you can put big capacitors across your power lines, like a 1000 uF 200 Volt or more. Putting these bigger capacitors in across the lines helps to reduce any big voltage spikes that might run trough your electronics systems. In most of the robots I build, I tend to put a bank of salvaged capacitors across the power line, maybe 4 or 5 1000 uF 400 Volts capacitors. As well as putting capacitors on the motors.